Stainless Steel Powder Filter Sheet
来源:http://www.leerfilters.com/news/395.html 更新时间:2019-12-16 点击次数:141次
Stainless Steel Powder Filter Sheet Technical Data
Raw Material: SS 316L
Filter Rating Range: 0.22 Micron ~ 100 Microns
Operation Temperature: ≤ 816 ℃
Length: ≤ 800 mm
Width: ≤ 320 mm
Regular Size (Length*Width): 50 mm*50 mm,100 mm*100 mm,200 mm*200 mm,
300 mm*300 mm,800 mm* 320 mm
Thickness: 1 mm,1.5 mm,2 mm,3 mm,5 mm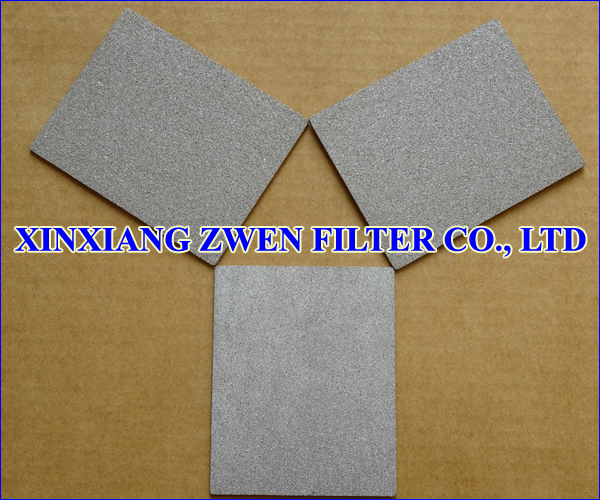 Stainless Steel Powder Filter Sheet Feature
1. Stainless steel powder filter sheet is made from stainless steel powder particle
2. Stainless steel powder filter sheet is sintered in a high temperature vacuum furnace
3. Stainless steel powder filter sheet is depth filtration
4. Stainless steel powder filter sheet has narrow pore size distribution
5. Stainless steel powder particle will not shed in the filtration process
6. High dirt holding capacity
7. High porosity
8. High filter rating accuracy
9. The effect of filtration is good
10. High filter efficiency
11. Good permeability
12. Pressure loss is low in filtration process
13. High flow rate at low differential pressure
14. High compression strength
15. High mechanical strength
16. High abrasion resistance
17. High durability against most liquids, gases and aggressive steam
18. High temperature resistance
19. High corrosion resistance
20. Backwash
21. Washable and Cleanable
22. Reusable
23. Long service life
Application

Sensor, inductor, detector, survey meter, pressure release device, protein analysis, polymer extrusion device, PEM electrolyzers, membrane filtration, polyester filtration, polymer filtration, oil filtration, steam filtration, gas filtration, powder filtration, liquid filtration, water filtration, beverages filtration, detergent filtration, solvents filtration, medicine filtration, pharmaceutical industry, petroleum industry, biological industry, chemical industry, chemical fiber industry, food industry
About Us
XINXIANG ZWEN FILTER CO.,LTD produces sintered powder filter cartridge, sintered powder filter element, sintered powder filter disk, sintered powder filter disc, sintered powder filter pipe, sintered powder filter plate, sintered powder filter rod, sintered powder filter sheet, and sintered powder filter tube.
XINXIANG ZWEN FILTER CO.,LTD has advanced sintering equipment, advanced welding equipment and a high level of skilled workers.
XINXIANG ZWEN FILTER CO.,LTD has passed ISO 9001:2008 quality management system and SGS audit test.
XINXIANG ZWEN FILTER CO.,LTD main markets are European market and North American market.
XINXIANG ZWEN FILTER CO.,LTD Key Clients: Parker, GKN, SIEMENS, MAHLE.
Contact Us
XINXIANG ZWEN FILTER CO.,LTD
HEAD OFFICE: NO.412 FANG, SI LOU, NO. 101 FUXING GUOJI, DONGBEI JIAO JINSUI DADAO HE XINFEI DADAO, HONGQIQU, XINXIANG, HENAN, CHINA
AFTER SALES SERVICE ADDRESS: NO.728, GONGYUAN GUOJI, DONGBEI JIAO JINSUI DADAO HE XINER JIE, HONGQIQU, XINXIANG, HENAN, CHINA
FACTORY ADDRESS: NO.425, XINHUI ROAD, MUYEQU, XINXIANG, HENAN, CHINA
TEL: +86-373-5807218
FAX: +86-373-5895995
EMAIL: info@zwenfilter.com
WEBSITE: www.zwenfilter.com
WEBSITE: www.leerfilter.com
WEBSITE: www.sinteredfiberfelt.com
WEBSITE: www.sinteredfilterdisc.com
WEBSITE: www.sinteredfiltertube.com
WEBSITE: www.sinteredfiltercartridge.com
WEBSITE: www.sinteredfilterelement.com
WEBSITE: www.sinteredmeshfilter.com
WEBSITE: www.sinteredpowderfilter.com
WEBSITE: www.zwensinteredwiremesh.com
WEBSITE: www.zwensinteredfilter.com
WEBSITE: www.ti-frit.com
WEBSITE: www.ti-filter.com
WEBSITE: www.titanium-frit.com
WEBSITE: www.titanium-filter.com
WEBSITE: www.metal-sintered-filter.com
WEBSITE: www.sintered-porous-filter.com
WEBSITE: www.sintered-fiber-felt-filter-element.com
WEBSITE: www.sintered-fiber-felt-filter-cartridge.com
WEBSITE: www.pleated-stainless-steel-filter-element.com
WEBSITE: www.pleated-stainless-steel-filter-cartridge.com
ZWEN Workshop
ZWEN QC
ZWEN Clients